Petrusse develops in France and Europe using our Cashmere solution
Petrusse creates stoles, scarves whose diversity of materials, patterns, colors and creations allows its creator, Petrusse, to communicate her artistic approach, the emotions she wishes to transmit and to make live on all of us.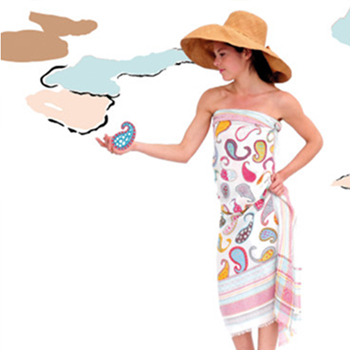 The story of Petrusse is that of a woman, creative, artist, passionate about art, literature and ancient fabrics, Petrusse Reynen.
It all began in 1996 when Petrusse, of Dutch origin, antique dealer and gallery owner, made a trip to India. She then discovered there the world of weavers who worked on hand looms or still weaved by hand in the respect of ancestral traditions.
Fascinated by what she saw, she decided to create a first collection. It was then that the first Petrusse stoles were born and with them the fashion of the cashmere motif was reintroduced in France; The cashmere palmettes, a noble and high-end symbol are selected, stylized and reinterpreted by Petrusse to cover the shoulders of refined women.
Years passing, Petrusse multiplies the materials, the creations, the sources of inspirations to sell today his scarves to the women but also to the men, throughout the world
Cashmere fascinates Petrusse because it is representative of a country, a design, a shawl and a material. It is at the heart of many of his creations and at the origin of its inspiration.
Its logo is made up of botehs (from Hindi – buta – meaning "plant" or "tree") symbolizing a stylized Mughal four – leaf clover.
Petrusse's Private Collection: Inspiration for Every Day
The archives gathered by Petrusse are made up of more than two hundred cashmeres, printed or woven, and original gouaches which establish year after year a fruitful dialogue with the different collections. Petrusse was one of the first to rework these ancient fabrics and ancestral motifs of India called cashmere to adapt them to the fashion and contemporary trends.
These exceptional, beautiful and rare fabrics are the subject of exhibitions proposed for different places of sale.
Petrusse Headquarters : Le Château Mauriac
Petrusse decided to combine her taste for art and literature with her passion for fabrics: she set up her headquarters and creative workshops in Langon (south of Bordeaux) in the house built in 1860 by Jacques Mauriac, Grandfather of the Nobel Prize for Literature, François Mauriac. She ties this place with an intimate relationship.
Creations
Inspired by its heritage of ancient fabrics and by its loving observation of nature, each of the Petrusse creations is exclusive and unique.
Sometimes embellished with precious details such as pearls and crystals, tulle, silk or lace embroidery, or velvet fringes, tassels in passementerie, feathers of peacocks or ostrich … The precious stoles are finalized by the fairy fingers Of the seamstresses of the House.
Petrusse creates unique, tailor-made pieces for its customers but also for its privileged partners
Most of the stoles in the House are woven on jacquard looms in Kashmir. However, for special techniques like the lance-cut, the weavers still operate by hand in accordance with ancestral know-how.
The know-how of the Petrusse House is recognized to such an extent that the greatest museums and castles use its inspiration to translate all the nobility of their heritage into fine fabrics.
Petrusse finally has vocation to share his favorites. That's why every season, she shares her collaborations with an artist, a painter, a writer ….
Petrusse develops its network of boutiques
in France and Europe using our Cashmere solution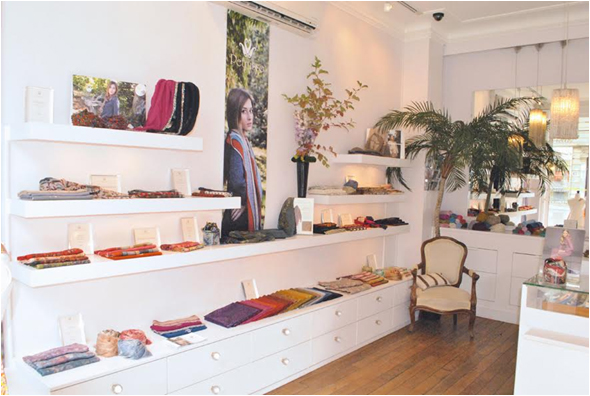 Petrusse shops in France
The Maison Petrusse welcomes you in the heart of the most beautiful districts of the most beautiful cities of France. In Bordeaux, Petrusse is located on rue des Remparts, a stone's throw from the Hôtel de Ville and on the alleys of Tourny in the Golden Triangle. In Paris, find the Petrusse scarves in the Rive Gauche district, one of the most chic of the capital.
Opening of the first Petrusse shop in Italy – March 2017
And also…
You can also find Petrusse stoles and scarves at BHV Rivoli, Galeries Lafayette for men and in all the Printemps for women and retailers all over France.